Grandpa's Knit Vests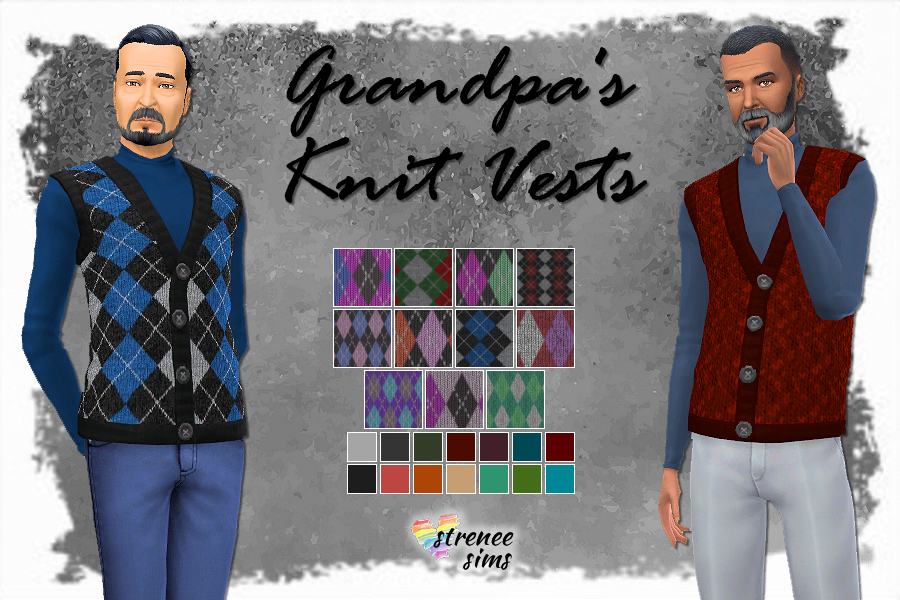 ABOUT: I know they were trying to make clothes for crazy Cats & Dogs papas but I still shudder at these vests. Here is my remake of each one – Grandpa's Favorite Vest. The argyle sweater uses the cat sweater and the other uses the dog sweater. The old fart in the blue argyle sweater is my dad, who would NEVER wear one. hahahaha! He is a t-shirt kind of dude.
WHAT WERE THEY THINKING:
I'm recoloring & re-texturing items from The Sims 4 that I don't like the original colors, patterns, look, etc.
If there is a CAS item that you think is "UGH!" send in a suggestion.
Each new item is available as an "Override" or "Stand Alone" version. If you dislike the original CAS item, download the "Override" file. Use the "Stand Alone" version if you like the original.
REQUESTED BY: Stephanie
RELATED:
• None Currently
MESH REQUIRED: None
SIMS GAME PACK REQUIRED:
Cats & Dogs
CUSTOM CONTENT FINDS: The Sims 4
Are you looking for more custom content? Here are my two favorite sharing sites…
• The Sims Catalog
• Maxis Match CC World