Solid, comfortable rugs to help match any decor.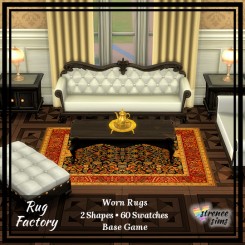 Renowned for their rich colors and interesting designs, Persian rugs are made with all-natural wools, silk and vegetable dyes, rather than synthetic materials.
Add an artistic flair to your Sim's floor with a bold geometric rug.
These worn rugs are perfect for those houses that have seen better days. Worn and ragged they give the impression that life has been hard.
Take a walk on the wild side with an animal print rugs. There are four shapes (small mat, rectangle, round, square) with 20 swatches each.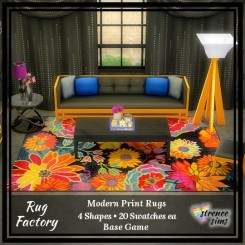 Contemporary rug designs with contrasts, bold uses of color, and geometric or free-form elements.