Leather Motorcycle Jacket
ABOUT: This jacket that came with Cool Kitchen Stuff is listed as a "Motorcycle Jacket" internally. Which has me wondering if the staff of EA has ever seen a leather motorcycle jacket!!! I never use the original one… I suppose it has a Southwestern USA flair but it's not my cuppa tea.
I decided to add leather and fix it up a bit. I used different leather textures and had a lot of fun. Hope you like it!
WHAT WERE THEY THINKING:
I am recoloring & re-texturing items from The Sims 4 that I do not like the original colors, patterns, look, etc. If there is a CAS item that you think is "UGH!" send in a suggestion. Each new item is available as an Override or Stand Alone version. If you dislike the original CAS item, download the Override file. Use the Stand Alone version if you like the original.
ORIGINAL CAS ITEM: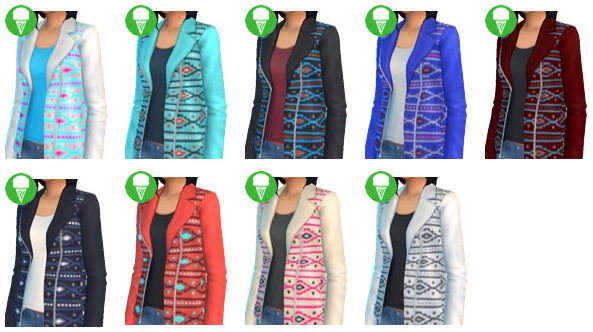 REQUIREMENTS:
MESH REQUIRED: None
SIMS GAME PACK REQUIRED:
Cool Kitchen
DOWNLOAD ONLY ONE:
Override
A file that WILL override an existing file.
– or –
Stand Alone
A unique file that WILL NOT override any existing files.