Stitched Up! Eco Lifestyle Shirt Outfit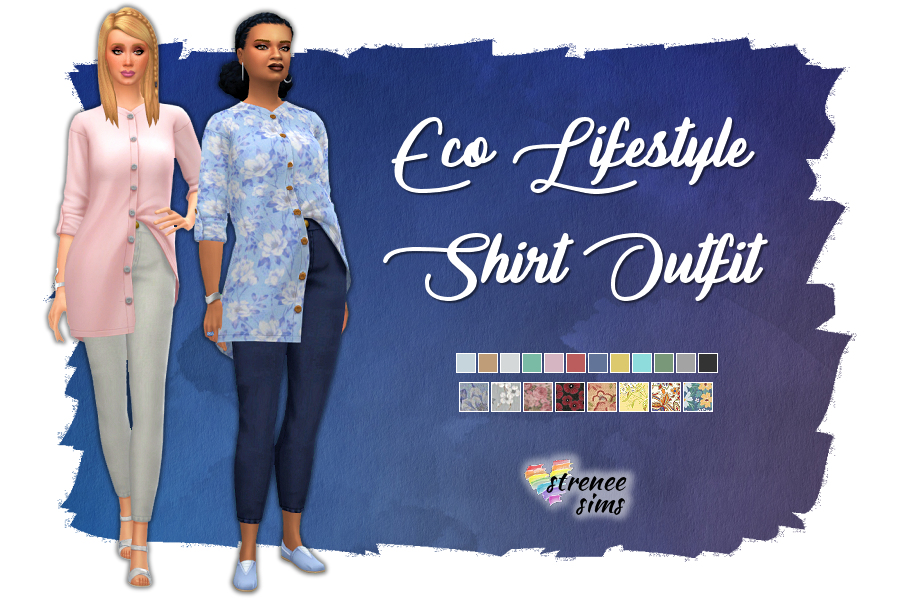 ABOUT:I Love this shirt outfit from Eco Lifestyle. The little untuck/tucked detail is awesome! It's kinda like my brain – partly there, partly not. So, I did a little rework of the jeans to remove the patches and I added some floral pattern options as well.
STITCHED UP PROJECT:
I am recoloring & re-texturing holey & frayed items from The Sims 4 that I would a new version of. If there is a CAS item that you would like a stitched up version of, send in a suggestion. Each new item is available as an Override or Stand Alone version. If you dislike the original CAS item, download the Override file. Use the Stand Alone version if you like the original.
ORIGINAL CAS ITEM:
REQUIREMENTS:
MESH REQUIRED: None
SIMS GAME PACK REQUIRED:
Eco Lifestyle
DOWNLOAD ONLY ONE:
Override
A file that WILL override an existing file.
– or –
Stand Alone
A unique file that WILL NOT override any existing files.
RELATED:
• None Currently